Designed for Australian beekeepers, by Australian beekeepers.
This ventilated jacket is exclusive to HBS. We consider it to be the best on the Australian market for quality and value. It offers unparalleled comfort and an extended range of sizes, so we're confident that we've come up with a protective jacket that will suit every Australian beekeeper.
We had our 3-layer mesh products tested by both professionals and hobbyists, and on their recommendation we included the little details that matter:
3-layer open weave mesh for excellent ventilation. Additionally, the depth of the 3 layers puts space between you and the bees.

Velcro tabs at the cuffs.

Thick elastic at the waist.

Metal zips for durability.

Plenty of reinforced pockets for all your tools, including a pen pocket and breast pockets with velcro closure.
This jacket has a throwover 'Sherriff-style' hood, although you can choose to replace the hood with a zip-on hat veil, if you wish. The fit is generous but not baggy.
3-layer mesh overalls and jackets are among our best-selling products. Professionals love them because they keep you cool on hot days, and hobbyist keepeekers love them for the almost-complete coverage against stings. Most of our staff wear our 3-layer mesh products, too, so we're confident in saying that if you want the best protective gear made for Australian conditions, then you can't go much further than this.
For most people, one size up from your t-shirt size is a good rule of thumb. Please see our size chart to be sure. If your overall does not fit, we will exchange it as long as you have not worn it to work your bees.
(1623)
Ventilated jacket with Hood

By:

Fraser

on 9 October 2021

Good price and service. The jacket arrived one size larger than ordered but it still seems very good in quality and fit for purpose. I'd shop here again




(4)
Bee jacket

By:

Tony Young

on 5 October 2021

Light cool great jacket




(5)
Ventilated Jacket

By:

Donna

on 25 December 2020

Highly recommend Hornsby beekeeping




(5)
Excellent

By:

Ron Day

on 14 December 2020

Very good in the tropics




(5)
More From This Category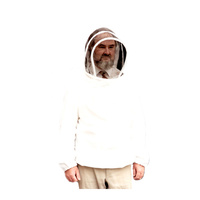 Jacket with Hood by Kunstelj Slovenia M-41
From $110.00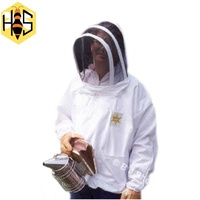 From $201.30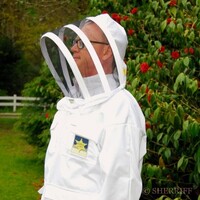 S41 Sherriff Honey Rustler - English made Jacket w
From $285.00