Designed for Australian beekeepers, by Australian beekeepers.
This ventilated jacket is exclusive to HBS. We consider it to be the best on the Australian market for quality and value. It offers unparalleled comfort and an extended range of sizes, so we're confident that we've come up with a protective jacket that will suit every Australian beekeeper.
We had our 3-layer mesh products tested by both professionals and hobbyists, and on their recommendation we included the little details that matter:
3-layer open weave mesh for excellent ventilation. Additionally, the depth of the 3 layers puts space between you and the bees.

Velcro tabs at the cuffs.

Thick elastic at the waist.

Metal zips for durability.

Plenty of reinforced pockets for all your tools, including a pen pocket and breast pockets with velcro closure.
This jacket has a throwover 'Sherriff-style' hood, although you can choose to replace the hood with a zip-on hat veil, if you wish. The fit is generous but not baggy.
3-layer mesh overalls and jackets are among our best-selling products. Professionals love them because they keep you cool on hot days, and hobbyist keepeekers love them for the almost-complete coverage against stings. Most of our staff wear our 3-layer mesh products, too, so we're confident in saying that if you want the best protective gear made for Australian conditions, then you can't go much further than this.
Please note that the dimensions on the size chart are much larger than regular sizes (for instance, the S jacket has a chest measurement of 121cm -- more like a 2XL in regular mens'/unisex sizing). Beekeeping protective gear is loose by design. Go by the height measurement first ('L' on our size chart).
Stephen from Aussie Bee Keeping on YouTube loved our jacket! Take a look to see it in action.
(1623)
Quality jacket

By:

Cathryn Ellis

on 17 February 2023

I ordered an XXS jacket and found it appropriate for my 150cm regular sized body. The fastenings were of good quality. I have used the jacket once and felt comfortable, cool and protected. No bees penetrated the jacket during my inspection and I was not using smoke, just a spray bottle of water. I also received a bonus tshirt with my order which was an unexpected surprise. Thanks




(5)
Got stung by the postage

By:

Craig

on 17 January 2023

Great jacket,and quick delivery,postage was about double the cost it should have been




(2)



Hornsby Beekeeping Supplies Response
Hi Craig, Freight costs are going up all the time owing to COVID and fuel costs. We apologise for any inconvenience caused. If in the future you feel that the freight costs you are quoted are too high, please contact us and we will see if we can get a lower estimate using a prepaid satchel. Enjoy your overall!
Ventilated jacket with Hood

By:

Fraser

on 9 October 2021

Good price and service. The jacket arrived one size larger than ordered but it still seems very good in quality and fit for purpose. I'd shop here again




(4)
Bee jacket

By:

Tony Young

on 5 October 2021

Light cool great jacket




(5)
Ventilated Jacket

By:

Donna

on 25 December 2020

Highly recommend Hornsby beekeeping




(5)
More From This Category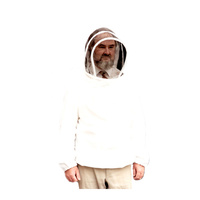 Jacket with Hood by Kunstelj Slovenia M-41
From $110.00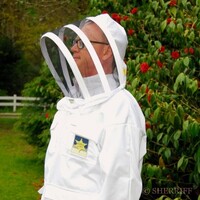 S41 Sherriff Honey Rustler - English made Jacket w
From $285.00