Please note that as of 28/4/23 we will no longer be supplying any queens this season. Queens are marked 'in stock' for the benefit of customers who wish to place a queen on backorder. We will start supplying queens again at the beginning of the season, around mid-late October.
A regal lady
We sell new season queen bees, grafted and mated. Our queens are bred by industry leading queen breeders with over 50 years experience breeding and selling queen bees. Whether you're splitting a hive or requeening, you can be sure that this lovely lady will be productive and strong.
Italian queen bees
Our queen bees are Italians, Apis mellifera ligustica. This race of bee was introduced to Australia from the warm Mediterranean climate of Sicily. Italians are admired in Australia for their brood production and foraging ability. An Italian queen bee is perfectly suited to any Australian apiary.
Feral swarms and the like in Australia often contain a mix of Italians, Apis mellifera mellifera, and others. Many beekeepers requeen regularly so that they can re-introduce the characteristics of these Italian bees to their apiary, such as their docility and productivity.
How will I get my queen?
Queen bees are available at Hornsby Beekeeping Supplies during the season, from mid-late October through late summer. We get queens in every ten days or so during the season; queens are always marked in stock to allow for backorders. If you have chosen to pick up your queen at either our Hornsby or Mount Druitt stores, we will let you know when she is ready for pickup.
We send out mail orders by Express Post. Queens are shipped in a wooden cage with workers as attendants, to make sure that she gets to you in good condition. If possible, you should be available to recieve the delivery at home so you can put your queen in the hive as soon as possible.
We will need to know your DPI registration number when you purchase your queen.
As of 28/4/23 we can only send queens within NSW. This is due to the ongoing varroa mite infestation.
Productive, Strong, Brood Explosion

Had a pesticide poisoning event and lost my queen along with a couple of thousand bees. The old queen had a spotty brood pattern in any event. 2 weeks after installing a Hornsby queen, there was a brood explosion followed by a tonne of bees. And this was mid-autumn! The new queen saved the hive and it will be ready to explode come spring.




(5)



Hornsby Beekeeping Supplies Response
Sorry to hear about your poisoning event, Joel. We're glad your queen is doing well!
Great experience

By:

Duc

on 19 December 2022

New beekeeper here. Had a failed queen and end up buying from HBS. Genetics are docile and easy to work with - ability to bring honey in is quiet impressive. Yellow & roundish in appearance. Images would be good to description. Ensure hive is queenless for a day. I would reserve a bee prior to picking up or getting it sent. Should have suggestion/guide for replacing queens by breeder even though info is readily available online. Best practice. Would certainly by again.




(5)
Good

By:

Andreas Dimakopoulos

on 12 April 2022

Queen bees were immediately available at Hornsby store unlike previous orders when they never arrived and no contact or update was received.




(4)
Queen bee

By:

Mark Nicholls

on 8 March 2022

Excellent queens. Quiet, non aggressive progeny & good layers.




(5)
Queens

By:

George mcgee

on 7 March 2022

Fantastic queens




(5)
More From This Category
$195.00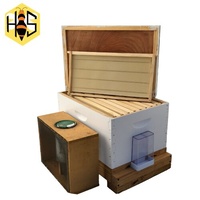 From $455.54