Please note that the varroa infestation has made live bee orders more complicated this season. Our supply of queens is subject to DPI approval, which is expected in the first or second week of October. We will need to know your registration number before we supply your queen.
A new season queen, grafted and mated. Bred by a professional queen breeder.
Queens are available at the start of the season, from late October/early November.

We get queens in every ten days or so during the season, so please note that your queen may not be available immediately. Queens are marked 'in stock' on the website to make it easier for our customers to place pre-orders.

We send queens through the mail via Express Post only. If possible, you should be available to recieve the delivery at home so you can put your queen in the hive as soon as possible.

Please note that we are currently only able to supply queens to beekeepers in the blue zone within New South Wales.

Our queens are supplied from Western NSW.

Disclamer: Live stock is pretty sensitive area. We try to accommodate our customers as much as we can however do not guarantee success. Warranty claims not applicable. If your queens arrive in a less-than-alive state we will do our best to replace them or refund you.
(Live002)
Great experience

By:

Duc

on 19 December 2022

New beekeeper here. Had a failed queen and end up buying from HBS. Genetics are docile and easy to work with - ability to bring honey in is quiet impressive. Yellow & roundish in appearance. Images would be good to description. Ensure hive is queenless for a day. I would reserve a bee prior to picking up or getting it sent. Should have suggestion/guide for replacing queens by breeder even though info is readily available online. Best practice. Would certainly by again.




(5)
Good

By:

Andreas Dimakopoulos

on 12 April 2022

Queen bees were immediately available at Hornsby store unlike previous orders when they never arrived and no contact or update was received.




(4)
Queen bee

By:

Mark Nicholls

on 8 March 2022

Excellent queens. Quiet, non aggressive progeny & good layers.




(5)
Queens

By:

George mcgee

on 7 March 2022

Fantastic queens




(5)
Queen Bee

Received queen by post. Put in hive 12 days ago. Unable to check due to torrential rain for 2 weeks




(4)
More From This Category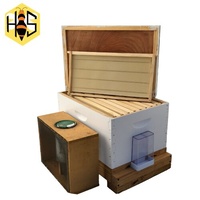 From $455.54
$195.00