Pure beeswax foundation manufactured by us at our wax plant in Western Sydney. 100% Australian beeswax milled at 12-14 sheets per kilogram.
When you buy our wax you are supporting a small business and helping to protect Australia's biosecurity and, in turn, our beekeeping industry.
Available in full depth, WSP, and ideal.
Commercial quantities available. Please call for price.
Full depth carton Holds: Approx. 125-Sheets
WSP carton Holds : Approx. 156-Sheets
Ideal carton Holds: Approx. 190-Sheets
NOTE: NSW Beeswax Foundation can't be shipped to Western Australia and Tasmania
More From This Category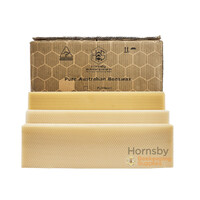 Foundation Bees Wax Full Depth/Ideal/WSP
From $2.75