No worries! Grab a ready-to-go box and stick it straight on the hive!
WSP boxes are a good compromise between full-depth and ideal. A full WSP box is easier to lift than a full-depth box but it will not fill up as quickly as an ideal.
HBS' ready-to-go boxes are made of premium plantation-grown New Zealand radiata pine, in our own factory, under strict quality control. They are finger-jointed, screwed together with 44 screws per box, wax-dipped at 180 degrees, then finished with a coat of primer and two coats of white paint. Our team has the utmost confidence in the longevity of this woodware.
8-Frame Dimensions:
Width: 353 mm Depth: 193 mm Thickness: 22 mm
10-Frame Dimensions:
Width: 406 mm Depth: 193 mm Thickness: 22 mm
(141RTG)
WSP 8 frame boxes.

By:

Anthony

on 27 September 2021

These hive boxes are without comparison the best quality I have bought. All square, fully screwed corners and hight quality, thick paint. I couldn't be bothered making boxes any more.




(5)
We Also Recommend
Others Also Bought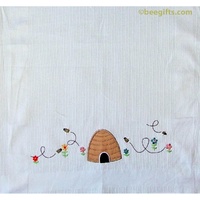 $22.00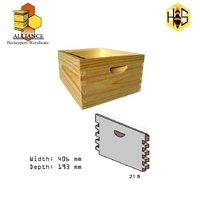 Box - wood, WSP, 10 frame, unassembled
From $28.00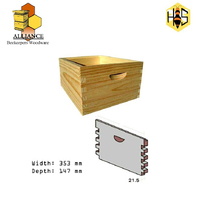 Box wood, 8 frame, ideal, premium unassembled
From $25.00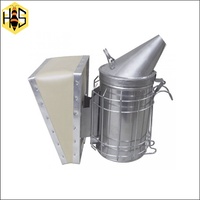 Smoker Dadant Stainless Steel 4"
From $89.00
From $14.00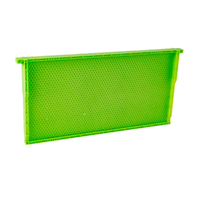 From $3.91
More From This Category