B. J. Sherriff are a family-owned beekeeping company in Cornwall, England, specialising in quality handmade protective wear. HBS is the exclusive Australian supplier of Sherriff protective wear.
The Honey Rustler jacket is our most popular Sherriff protective garment. It's especially popular among professionals, but will suit anyone who wants the very best. This jacket is robust, very high quality, and has been finished off with little details that will make your life a lot easier. With proper care you can expect that this protective garment will last you for years.
Durable poly/cotton construction.

Robust central zip with a large pull that makes it easy to grasp, even with gloves on.

Elasticated cuffs with thumb loop to make it easier to pull gloves on.

Four roomy pockets: two breast pockets (one with pen clip) and two at the hip (one with a clip for your keys). All of the pockets are secured with velcro.

Elastic waist with toggle for adjustment.

Drop sleeves so it's easy to pull the jacket on and off. This jacket was originally designed for a beekeeper who worked from a wheelchair, so it's comfortable for everyone, but especially for those with restricted arm movement or big shoulders.

Veil has Sherriff's 'ClearView' mesh, for increased visibility and ventilation.

Convenient double zip in the veil makes it easy to throw it back over your head. The veil can be removed completely so you can wash the jacket in the machine.

This is a staff favourite at HBS!
S41. Sheriff jacket

By:

Wayne Edwards

on 24 October 2021

Excellent quality and design. I have had this jacket before and that lady many many years. Really is the best beekeeping jacket. But keep in mind the bees can still sing through the material if it's up against the skin. So you need another shirt etc underneath




(5)
More From This Category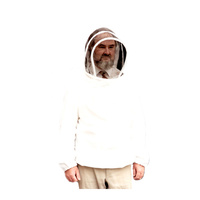 Jacket with Hood by Kunstelj Slovenia M-41
From $110.00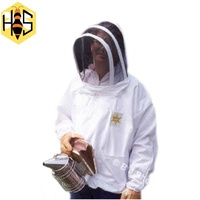 From $201.30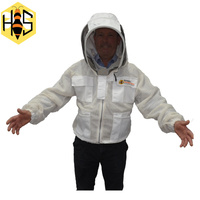 Ventilated 3 Layer Jacket | Protective Clothing fo
From $120.00