Quality protective gloves designed by Australian Beekeepers, for Australian beekeepers.
These gloves are designed by Hornsby Beekeeping Supplies and are manufactured to our specifications. They are durable, comfortable, and offer great value for money.
Why goatskin?
Goat leather is durable and hard-wearing, yet soft enough to give you the grip and feel you need to work your hive. Goat leather is a sustainable way to offer cost-effective and good-quality protective gear.
New Design:
Our new design is more fitted, giving you freedom when you work your beehives. We have also improved the fit of the elastic cuff.
We stand by the quality of our beekeeping equipment:
We find these gloves so easy to wear we typed this product description wearing these washable gloves!
Heavy-duty cotton gauntlet to protect your whole arm against stings. The long gauntlet gloves extend past the elbow and end in a simple elastic cuff. Excellent if you work your hives wearing just a veil.

To keep these gloves clean, wash them carefully in cool water and leave them to dry in the shade. Honey will wash right off. Wax and propolis can be removed by first placing the gloves in the freezer.

Disclaimer: No beekeeping gloves are 100% sting-proof. You may get stung wearing these gloves, especially if your girls are grumpy, but the strength will only be about 10% that of a regular beesting.
(1624)
Great gloves

By:

Monica

on 18 August 2021

Great set of gloves. Extra protection around the wrist area which is so important. Will buy again.




(4)
Gloves

By:

Charlie

on 3 May 2021

Feels tough, and soft at the same time. Easy to wear easy to remove. All round works well.




(5)
Gloves

By:

Kelly

on 24 November 2020

Beautiful quality




(5)
More From This Category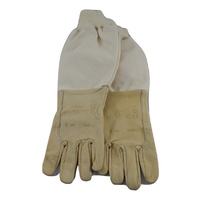 Washable Leather Gloves Sherriff
From $60.50