Sick of testing yourself for COVID? Test your bees instead! To use this AFB test, you simply need to take a larva, shake it up into the bottle, and drop the resulting liquid in the test cassette. The image shows a negative test (one line, not two).
American foulbrood is a serious brood disease. It is spread by spores that can be present in honey and other hive products, and on hive tools and components. AFB is commonly spread by robbing of weakened hives. The DPI recommends that beekeepers check their hives for AFB in October and test them if possible. Please see Bee Aware for more information on AFB.
Information from the manufacturer:
The Vita American foulbrood (AFB) Diagnostic Test Kit enables beekeepers and bee inspectors to test for AFB in honeybee larvae and to obtain the results immediately and easily in the apiary.
Key Facts
Diagnostic kit works like a home pregnancy test [or a RAT test!]

Generates immediate results

Reacts specifically to antibodies associated with the pathogen Paenibacillus larvae subsp. larvae which causes AFB in honeybees
How To Use the AFB kit
Extract a larva showing suspicious symptoms with the spatula.

Unscrew lid from the Extraction Bottle. Use the spatula to deposit sample in the bottle. Replace the lid and shake vigorously for about 20 seconds. BEWARE – the bottle contains buffer and sodium azide.

Remove a Test Device from foil pack. WARNING Do not touch viewing window.

Unscrew lid of Extraction Bottle and use the supplied pipette to remove a sample from the bottle. For best results remove the sample immediately after shaking to prevent bacteria from settling out of suspension.

Hold the Test Device horizontally and gently squeeze two drops onto the sample well of the device.

Keep device horizontal until extract is absorbed (c 30 seconds) and a blue dye appears in the viewing window.

Wait until the control line appears (labelled C) and read the result (c1-3 minutes)
Please see here for detailed instructions.
(3_)
AFB quick test

By:

Dean Little

on 13 April 2021

Quick to useFast delivery




(5)
AFB

By:

Sherrie Jeffrey

on 26 October 2020

Easy to use.




(5)
From past experience product is fine

By:

Tony Retra

on 22 March 2019

The product has still not arrived!!! If it was posted on Friday 15th there was no tracker till Thurs 21st 1.15am Melb. It appears to be still sitting there. If it was posted from Hornsby surely it shoud atleast be recorded going through Sydney??!! AUst Post says 4 working days!! Cheers.




(5)
AFB test kit

By:

Robyn B

on 11 September 2018

Result in an instant. Easy to use.




(5)
AFB TEST

By:

Todd Chapman

on 27 December 2017

Very simple and easy to use. Accurate results, good to confirm warning signs you find.




(5)
We Also Recommend
Others Also Bought
More From This Category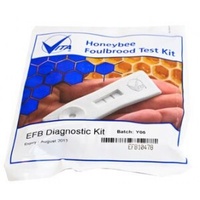 European Foulbrood (EFB) Diagnostic Test Kit
From $18.00